Bending Over Poop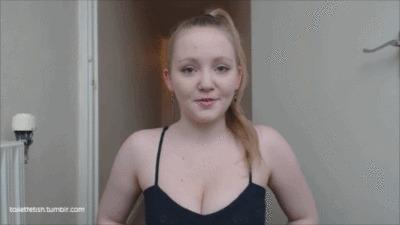 This is a similar clip to the clips "legs together poop" and "standing pee, poop and farts" (this was a series of 3 customs made for one customer) but the viewing angle and dialogue are slightly different. Again, I start by telling you that my bottom is full of shit and i've been holding it for quite a while. I'm wearing a cute sundress and fullback panties. I tell you how much I love knowing how much watching me shit turns you on, I love imagining you masturbate while you watch it fall from my bottom. I pull one big, natural tit out of my dress telling you to get your cock nice and hard for me. Then I stand, bend at the knees with my legs together and start pushing. I tell you to stroke your cock while I shit. Pee comes out first, then two logs. Neither log is particularly long, but they are both extremely thick. I show you the pile on the floor and my dirty bumhole afterwards.
Very Big Hard Sausage In Evening
My rosette press and i must shit in the evening….ah the Rosette was very big and the sausage is too much bigger anh hard shit!!come my toilet slave!!
Not Finished
Just as I thought I was all done, there was more caviar wanting to get out.