Shitting On Toilet And Making You Lick My Asshole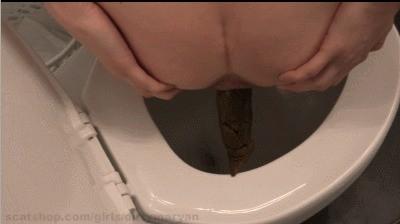 I sit down on the toilet and take a big and satisfying shit. You can hear me moan as I push a nice hard log out of my asshole and then I moan of relief after I'm done pooping. You can see my shit fall in the toilet and hear the plop. I then show you the same shit coming out from a second camera angle. In this other angle you can see my asshole better while I am pooping.I wipe my ass and show you the dirty toilet paper. I stand up and spread my ass cheeks. I make you worship and lick my dirty asshole. "Sniff! Stick your tongue out and clean my ass! (…) Next time I wish I have diarrhea on your face!" When I get tired of your stupid face I tell you to fuck off!
Bad Tea'her. Camera 2. Part 2
Introducing: Matilda.Faces are hidden only in the preview pictures, in video there are no censorship.This is nice footage from second, alternative cameraMatilda is a very bad school teacher.Dry Numbers. 90 minutes of instant hardcore, two scenes, lots of shit. Blowjob for piece of shit, all kind of sex, enemas masturbation and fucking.Bad teacher Matilda spending time with her student.Humbly saying one more perfect video.Enjoy your watching.Kisses.Matilda
Ebony Jewel's New Funky Blasts
Ebony Jewel is back with her latest Ass blasts!! Enjoy two Great New Toilet flicks. She was feeling real gassy on this day. Enjoy as she farts and sharts on the toilet. Nice Mix of Farts and shitting in both clips. You can never get enough of Ebony Jewel's Ass – and the things and sounds that come out of it!! The first set of few new ones coming soon!!