Opportunistic Employee Fed With Piss And Feces!
Before this lady could relieve herself in the comfort room, she spots a man peeking inside! She proceeds to grab him and teach him a lesson he will not forget! At first, she strips him of his clothes and then wraps him in rope! After which, she lays him on the floor, inserts a makeshift funnel inside his mouth, and then urinates inside it! This left the victim with no choice but to swallow every drop of piss she can release! Eventually, when she is done pissing, she grabs a bowl, positions it on the floor, and then defecates inside of it! As soon as she finished, she grabs the guy by the hair and then makes him lick her asshole clean! Though, this isn't the worst part! She later powerfully buries his face inside the bowl that contains a mixture of her piss and feces!
Schoolteacher Scats For Cash!
This pretty schoolteacher has a nasty side and she is not above using it to earn her some easy cash! She sits perfectly poised on the couch and then she starts to strip to show her dainty underwear. He takes her soiled pantyliner and smells it deeply. She sits naked on the couch and lets him fiddle with her cunt and asshole. After a while, she squats on the floor and shits as she is instructed to. She hands over her product and laughs with glee as he hands over crisp bills for her service.
Behold, My Mistress Who Shits And Spits On Me! – Part 2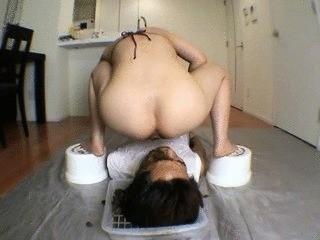 She rubs her ass and pussy on my face then aims her butthole right above my mouth. She dumps chunks of shit right into it and I savor every bite of her feces.