Domi And Kimi Scat And Vomit Humilation-kimi Only
Today Domi and Kimi visit a new slave at his hotel. he wanted them to shit and puke in his mounth and stuff every peace of shit and vomit deep in his throat. A very intensive and agresive clip! enjoy it!this is the part futuring Kimi only
Pee And Cum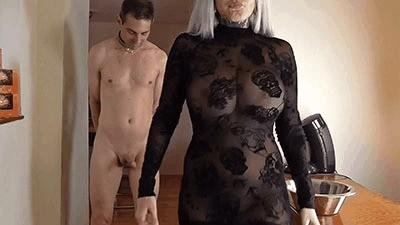 The little jerk is allowed to wank his little cock. While is doing this I pee in a big bowl for him. He can look forward to the delicous juice of his mistress. After I spend all my precious juice for him he should also cum in the bowl. What a delicous mix! After he mixed it up he will drink off both liquids out of the bowl until the last drop! And he better not leave anything over!
Mistress Humiliate Her Toilet With Piss Drinking
Mistress is back again on our studio. She love to use her toilet slave. She ballbusting him today and fuck him in the ass with a huge strapon, also deepthroat him with her strap and humiliate him. She was dressing in a seethrough catsuit, crotchless one ! Hope you love big boobs because she is a gorgeous Goddess. She pissing into toilet slave mouth and order him to drink it all.