Madame Du B's Slave Eats It All
Today is the toilet slaves birthday and scat goddess Madame Du B has a special treat for him to go with the cake she got for him. His special treat is a massive heaping load of chocolate straight from her beautiful ass. She piles it up and spreads it all over his cake and make sure the slave eats every bite and licks her spatula clean. She humiliates and degrades him while eating her chocolate surprise. This is without a doubt the biggest load the slave has had to eat. He enjoyed every bite and was stuffed after he was done. Be sure to see, tribute and follow the bootyful on Twitter; @Ms_Du_B you will not be disappointed.
P – 3 Girls – Drink Our Pee – Full – B – Hd 1280×720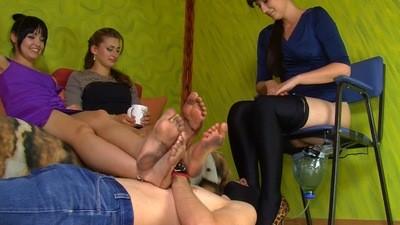 HD 1280×720, time 11:54. Girls want to have fun and want to pee. They using a man as a human toilet and make his stomach full.
I Love Your Scat Mistress P2
Lisa and Mistress Michelle are whipping the toilet slave and give him a little strapon session. Lisa is fucking the toilet slave hard with a strapon. Funny noises comes out of the slave while Lisa is fucking his asshole. After the session he have to lick up his own shit from the strapon and do a blowjob.Language: English+German