Swallow My Liquid Shit
I left for few days and my slave smell my odor, of course, and very missed his Mistress. But now, when I came – is time to eat something tastier. I cant hold my huge liquid shit any longer so he has to open his mouth wide open because I can feel that it's going to be huge! Hot, smelly, nasty diarrhea! Oh yes! And my ass is still wide open so I command him to stick his tongue deep inside my asshole and tongue fuck it. Oh it feels so damn good!
Poop Lipstick!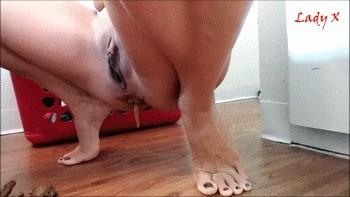 I just took a really nasty shit and I got the idea of using my poop as lipstick. I get carried away as I smear my delicious scat all over my mouth and proceed to smear it all around my beautiful lips…
Get Nasty With Two Girls Panty Poop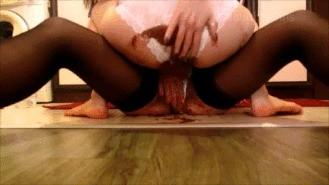 I'm reading a book when Jessy comes. Hey hun what are you doing? I'm pretending I'm pissed of her little games.She touches me and I get so excited but…Jessy what the fuck r u doing? I'm having my free time,please leave me alone! She tries to get me excited the way she is but I'm pretending I'm not into her any more.The big fight starts over. Jessy, Is this some kind of breaking up? Oh goshh,if YOU ONLY knew what I'm thinking to do with you.She sits on the chair making her sad face when I sit on her and tell her I love you! I have special surprise for you! The nasty,kinky fun starts from here when I shit in my lace panties sitting on her 'this smell' even when she shits in her panties.OH MY GOSH!!!!!!.have a look boys,you won't regret spending your time with us !!!!!