Feeding My Slave With Shit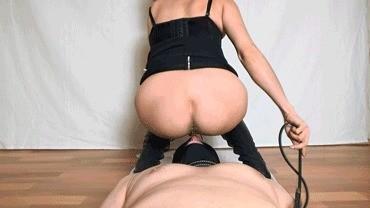 Watch me while I'm making a big portion of dinner for my slave. He's so love it…delicious shit served right from the beautful ass of his Mistress. What could be more beautifull then this? Im starting to feed him with my hand in leather gloves..he eats it with pleasure and thanks his Mistress. I made a big portion of shit, and I start to stuff it into his mounth. He loves it very much…how else. Do you want in his place? To serve me like my toilet… Ha-ha! And how many people can afford such a luxury dinner? Only elected and devotees slaves.
Devoted Wife Serves Puke And Shit! – Full Movie
Husband comes home after a long day at work, expecting a hearty dinner to be served as soon as he arrives. Tough luck; his wife tells him that the maid is sick and wasn't able to prepare dinner. No choice but to serve you dinner myself, she says. So she shoves her fingers down her throat and pukes on her hand, which she feeds to her hungry husband. After eating up the vomit, she makes him lick her pussy as a salty appetizer for the main course. She squats on his face and ejects big chunks of shit straight to his mouth. She places some of the shit on her hand and smears it all over her husband, as dessert for a very satisfying dinner.
Introducing Oxana!! Latin Funk!!!
It?s a New month, and once again I?m back with a new recruit!!! Say Hello to Oxana, a lovely South American delight!! Enjoy this latina?s wonderfully ploptastic debut!! Enjoy as she spreads her beautiful brown as nice and wide to squeeze out her plops and mudbutt!! Four Great debut clips from a new Funky lady that is sure to become one of your favorites!! A perfectly EXPLOSIVE debut filled with plenty of poop and diarrhea!! In the finale just when she thinks she?s done, she squirted out even more!! Get ready to fall in love with YET another Funky Lady!! NOBODY is gonna keep hitting you with the new like us!!