My First Peeing Clip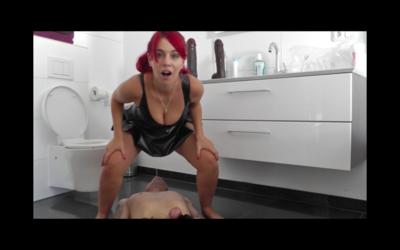 Since so many people have been asking me to do a pissing clip: well here it is! At first I pull off my panties and tie my slaves balls up. Afterwards I stand on him and pee straight in his face. He tries to swallow everything but its such a big load! When I have finished I sit on his face and use him as a toilet paper.
Mistress Gaia – The Magic Shit
CUSTOM REQUEST – " Good morning Mistress,the custom request is a bit special, always based on domination scat and skirts fetishism, but with a supernatural plot.You are a witch and, in essence, you use your magical powers to cast me a spell that transforms me permanently in your toilet.How does this happen?First you draw a pervert (me), leaving your dirty underwear outside the door, on which you cast a spell that stuns and immobilizes who touches them. The video opens with you seeing that Your trap works well and and you are satisfied with this thing, and now you have the raw material for your spell.Then the video off and you explain that you cast a spell that aims to turn me forever in your toilet.The spell is in three phases:Before the slave must worship your shoes imploring you to turn him into a toilet.Then the witch piss in the slave's mouth, turning him into a toilet, but the transformation is not permanent, he can still go back.Finally the witch shit in the slave's mouth, making the final and permanent transformation.You enjoy in explaining these things, you rule me mentally and order me to submit to you, and then you begin the ritual.Video as usual in pov style, you wear a skirt, a dark gothic skirt. A witch skirt …Thanks !!! ?'
P – 2 Clips – Pee Drink – Mix – Hq 640×480
HQ 640×480, time 17:24. Toilet slavery. Toiletman will drink all pee.