My Own Toilet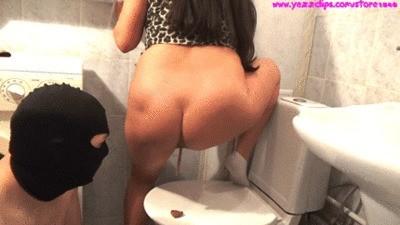 I'm regularly use the slave mouth in my toilet. When I want to shit, he's always around and ready to take my fresh shit. So it happened this time. Lick my ass with pleasure, dirty toilet. Look how much shit comes out from my ass. Now I'll put it in your slavish mouth and you have to eat all my shit.
Lying And Shitting Soft Long Sausage
I make you horny with my Titts and Nippels…..then you can see my curvy ass when i lie on my couch!! i give my leg up and he comes a soft,long and smeary big sausage!! The shit is all on my leg and ass,so smeary,ahh come and lick my asshole and my fingers clean,i have shit on my fingers!!
165 Scat Is Not Easy – Kv
This is my slave J at the firsd hard experience of scat. May be you loose this clip during 29 minutes but this is very important for new toilet slaves. MP4