Exclusive Shit! Princess Mia – Humiliations Enema Pissing
Torture of my slave continues I put the slave under my new toilet chair which the slave has created. I continue to teach the slave to eat my shit. This loser always resists, but today after I have shitted in his mouth, tightly sealed it with adhesive to make him swallow all my nectar, I pissed him in the mouth. And before that I have drunk a lot of cranberry lemon juice for the slave to feel "nicer". But that's not the end. I decided to clean my intestine by making an enema, and then everything came out of my ass straight on the slave's head. I wrapped him with a bag and left him for the night to weaken and torment. He is my thing! 🙂
Shittin' In My Boots
Erica has a major stomach ache; she's had this pain for a while. Was it the beans? Finally, she feels relief coming, she has her rain boots on and gets up on the toilet and lets loose!Flying shit splashes into the toilet from her ass backed with HUGE farts! She thinks she's done but it goes on and on for over 13 minutes!
Share The Shit Second Cam-closup Cam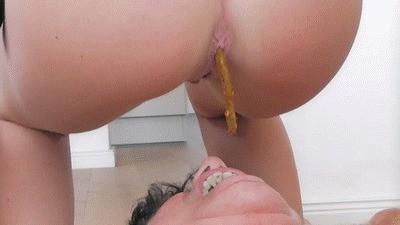 This is the same clip like shere the shit from an other caamera angle. In this clip you can see the shitting action in a more close angle!