Fully Lubricated With Shit
I really need to shit my husband catches the shit and smeared everything on my ass and fucks my ass. My husband take the shit and smeared it on my body
Gina Gerson Becomes Horny After Pissing
Gina Gerson is a very sexy blond girl. She has an incredible hot body! She runs to the toilet and has to pee very soon. Fast she takes off her panties and raises her top so you can easily see her naked body in its perfection. Her ass, her pussy and also her tits are almost perfect! Then she moves atop of the toilet bowl. To let the water flow she starts to touch herself. This way she can relax even better. And soon the golden liquid leaves her hot pussy… But most of the pee doesn't land in the bowl! Instead it seems that she aims at the toilet seat itself! But there are also some drops which land on her feet… When she seems to be empty she doesn't stop touching herself. She seems to be so horny already that she wants to continue… And so she fingers herself until she cannot hold it any longer: She has an intensive orgasm and seems to be very tired now… But it was worth the effort!
Xtreme Hairy Cheela Pissing After Fucking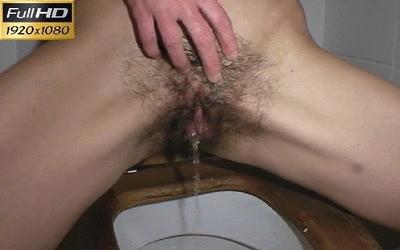 Outlaw maked a big load of cum to Cheela's hairy pussy. After the shot Cheela goes to toilette and show a big load of pissing. Do you love Cheela's extremelly skinny, titless body?