Madame Du B's Turd Muncher Iphone
Scat queen Madame Du B saved up a huge meal for the toilet pig and boy does she deliver. She straddles a chair and serves up some long, thick, smelly turd logs for the toilet to consume and as an added treat the toilet pig gets to lick the goddess clean. Be sure to see, tribute and follow the bootyful on Twitter @Ms_Du_B. You can now get Madame Du Bs delicious chocolate treats sent to you for your eating enjoyment.
Scat And Piss Sale Clip! Is It Already Christmas!?!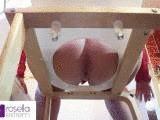 Here you can see the horny piss and shit scenes, from a mega-shit sausage, from the caviar and piss Full Movie Your Christmas dinner! A big shit sausage, potted in piss!
Poop Burger Shared With Sugar Daddy! Part 3
Cooking the yummy looking poop burger, it looks better than it smells for sure but her sugar daddy will surely love it! And HE DID!! And he ate all of it!