Brutal Scat Session With Face Destruction!
Before his ugly face is destroyed with kicks, he has to lick the dirt from the boot soles clean. I have run especially through dirt and match before. Certainly also the dirt from the toilets of the last party night depends on it. Because he does not get it to my complete satisfaction, he is severely punished. Facestanding, facekicking, facejumping, facetrampling, kicking his face with his foot … until his skull bursts! The brutal punishment goes even further. He is dragged into the toilet. There he has to lie on his back and open his mouth wide. Again and again he is shouting and driven with harsh insults. I piss in his mouth! He even has to shit in his mouth! The full load of shit the last 3 days right down to deep in his throat! As a surprise, there is still the shit in the storage box … He must chew everything fine and completely swallowed. Everything is still captured with photos! The pictures are sent to his wife so that the marriage-bitch can see what kind of toilet she has as a beta-man.
Oxanayellowhosemessy
OxanaYellowHoseMessyPooping!
Mega Fat Sausage From The Ass Shot In The Glass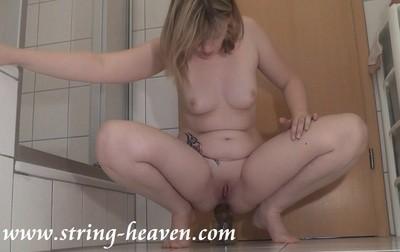 Well that was worth it. It was supposed to be a sausage stew. Unfortunately, the meat was too fat and too long for the glass ^ ^ I had so much pressure in the ass, that she came suddenly shot out. And I'd almost torn the ass. Honestly … that you have to see 😉