3 Dominas Shit And Piss 2 Toilet Slaves In The Mouth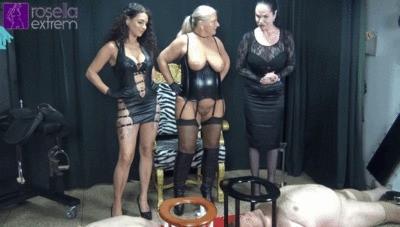 Here I have with my girlfriends Barbara Calucci and Mara, 2 slaves pissing and shitting in the mouth. Each of us had a different consistency while shitting, from hard to liquid everything was there! The two slaves came to their limits with so much delicious shit, they got it in her mouth. Since a slave could no longer swallow and jam, we ordered the other slave who had shit in his mouth to spit this the whining slave in the mouth. We dominated the slave then until he had eaten everything. We also fed him. The horny, piss in the mouth and pooping in the mouth scenes you see it again from 3 camera angles!
Drink My Pee Slave – 7
I love to see my worm drinking my pee… And he must swallow all!This time for helping him I put a funnel in his mouth 😉
Oxanabrownhosepoop
Oxana is pooping in brown pants messy poop.