Domme Barbie Strap On & Kaviar Play
Today Mistress Parvati felt like dressing up like a kinky doll and is wearing an intense pink body and sheer pantyhose. The domme doll puts on a pink strap on, to fit the colour of her body and invites her slave to fuck his ass. She fools him that she will fuck him soft. Instead of doing so, she fucks him in a hardcore way, like a fucking machine. At one point she inserts also 4 fingers inside his asshole, together with the strap on, doing a double penetration. The kinky doll also covers his mouth with her hand and fucks him hard. After she is satisfied with the fucking, the goddess-doll invites her toilet slave in the bathroom. While he rests in the water the doll does an enema in his mouth. Because dolls like to play, she puts two pieces of shit in his mouth and then orders him to spit it and rub his cock with her shit.
Pissing At The First Lesson
So sorry if my video are so long and so expensive…. this is the unexpected end of the first fetish lesson of my new slave during a 24/7 H24 by me in Sardinia. Pissing. The slave can not understand where we will go with our lost minds and this is the final result: my new slave become for his first time a toilet. MP4 for mobile and pc.
Monster Shit Sausage For The Slave Under The Toilet Chair! Full Movie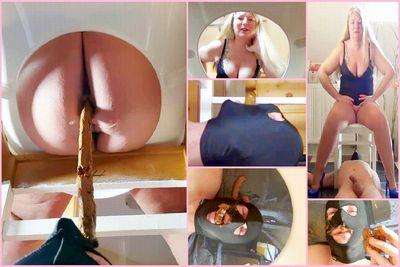 Here I have one of my toilet slaves, which was below the toilet chair and there had to sleep, a monster shit ausage, shitting in his mouth, in my morning, toileting! During the record-breaking shit sausage plopped into his mouth, I had to pee and also I pissed him doing well in his mouth. Thereafter, the slave had to eat completely the big shit sausage. He was then totally exhausted, had to almost throw up and was close to fainting! This perverse mouth shit and shit-eating video, you can see from 3 camera angles!