Goodness Grace's Beauty, Booty, And Booboo's!!
This Month Marks my 3rd May on Scatshop!! If you must know, yours truly (meaning me the proprietor of this here juke joint!) ONLY liked natural toilet action when I started Ladies Keeping It Funky Four years ago elsewhere on the net. If you look at my original clips very few even showed poop coming out, let alone anywhere other than the toilet!!! But what I learned is I am not the only one that loves the ACT OF POOPING, NOT POOP ITSELF!!! I knew there was a fanbase that was just like me. There are TONS of scat lovers just like me that don't personally enjoy seeing women do something that isn't their natural everyday toilet routine. Sorry Pooping upside down and on all fours and plates ain't for everybody. Myself included. Even the owner of Scatshop and I used to argue about what content would and wouldn't sell. I was right. I have consistently been in the top 10 pretty much all of the last two years. My content maybe a tad "boring" in comparison to the other top 10 stores, but definitely representing for folks that like ladies that look like my ladies taking a shit the way we all do normally every day.As I have evolved on this site, so has the content. The EFRO content has increased trememendously. I will admit I got some offers I couldn't refuse that helped change my tastes and opinions. I went from not liking the site of poop until before the flush to having to see it come out in every clip. Then I got a few "out the box" requests – or should I say off the bowl, lol. I realized I fucking LOVE these clips. It helps as I got bigger and better – the quality of the content also coincided with increase in the quality of the TALENT – I came from humble beginnings!! It didn't hurt that demand from other customers helped spark my interest. If you buy it I will see if they will make it! Some models can oblige, some can't. But every now and then you get lucky and meet one that covers ALL bases!!Grace is out to show she covers all bases!! After proving herself to be one of the queens of EFRO in my opinion ( I mean on Scatshop PERIOD – not Just Ladies Keeping It Funky!) she is out to catch the attention of my original base. Enjoy a nice set of natural toilet clips as she sits on the bowl and gives that old fashioned GPS action – that's grunting, plopping, and straining!! She even gets that sexy ass Georgia Peach of hers to moving in several scenes. But the focus here is enjoying a sexy woman in the ACT OF pooping, not the shit itself!! While she does show the end results, there is no scat shown coming out in any of these clips save a turtlehead in one scene. This is for my Natural and less hardcore toilet fetish folks. But there is no better model to show the evolution of LKIF than our hottest sensation!!! She truly covers all bases!! Enjoy the sites and sounds of her on the pot as she poops, poots, pees, and plays with her feet. Then enjoy as she puts that sexy ass of hers in motion as well!! In one month she has encapsulated everything this store has to offer – while also giving a glimpse into the future! With even a little extra for you feet lovers!! lol
Squirting Poo
A video completely insane… a personal request! I come back from work and as you will see I have my belly a little bloated … but I kept all my shit inside me for you … I absolutely need to do some shit … I lie on the floor in doggy style and start to push … a lot of shit come outside and it's very hard … I do some pee on the floor … I lie back and i put a piece of shit completely inside my pussy, I push it out and still in and out … a lot of times. Then I turn the same situation with my ass off … inside … in the mouth suck it like a fucking cock … the end I masturbate on my back and you will see a sea of squirting!
Chrystal Interview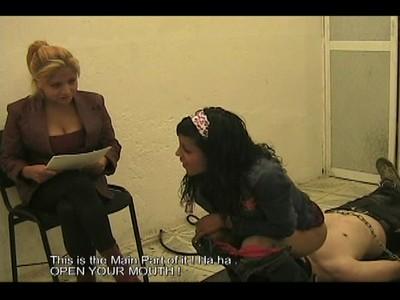 Nicole interviews Chrystal about the Toilet Slavery thing. The Interview in Scat-Princess has been very successfull, especially this Video with Chrystal. It has English Subtitles and is only in standard Definition