Used As Toilet Part 2 (outdoor)
My slave has to drive me, as usual. While driving I realize that I really have to poop. Of course I want to use him as my toilet! He has to stop the car and I sit on his face. Almost immediately there is a huge piece of shit coming out of my perfect ass! I shove it in his mouth! I don't care if he pukes! If I have to poop, my slave has to obey. There isn't any toilet paper, so I use his tongue. Let's go!
Under The Desktop Poop Session Part 4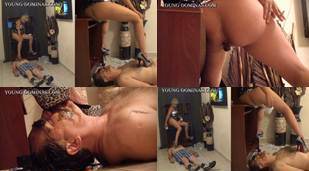 Girls Uses Man
Emily, Shitting Emo Girl
Wow, this is a SUPERTURD from Emily, a sweet Emo looking girl loves very kinky shitsex!!