Silicone Goddess Shitting Again In Public Places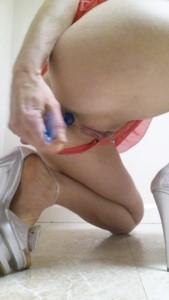 Mistress Lilly continue her shitting stories. The silicone lady love to shit and piss EVERYWHERE and she also have a camera with her for recording that ! A true Scat Goddess who love to show off her passion for scat !! This time she playing with her pussy and using anal beads in her asshole. Then she shitting a large diarrhea.
Mistress Gaia – So Much Shit
Lots and lots and lots of fragrant and sweet-smelling shit for a pervert like you, when you see My shit out of My ass, you start to masturbate until you cum like a real bitch! Whore!
Dog Or Pig Scat Hd Version
Thogether with Lisa I use a little slave which would love be our toilet slave. we will see how good the slave is a human toilet.