My Best Shits 8
It's time to bring you all my greatest moments again, moments where I took massive and nasty shits right into my slave's mouth! All these best scenes in one video without all the annoying dialog & story lines. Well, slaves do have to eat something, might as well eat my turds. What an honor and privilege it must be for lowly slaves to can say they were lucky enough to keep their mouths wide open under MY asshole when I take a shit. See my slave enjoying this massive honor of tasting & eating the turds directly from his Goddess Queen. Directly, warm and fresh from her asshole into his mouth. Including a massively nasty diarrhea scene into his mouth & over his face! Walking in and having a seat to give my slave a huge breakfast. Directly from my perfect Goddess asshole. Felt so good to push such a big & creamy load out & knowing my slave is getting something to eat at the same time – From Broken Toilet 32Quite possible the nastiest runny diarrhea I EVER had! My slave struggle keeping up drinking as it gushes out of my asshole into his mouth and all over his face – From Broken Toilet 33Taking a soft & creamy shit into a plate for my slave, Yes, sometimes it's nice adding a little class and letting your slave dine on your shit from a plate – From Broken Toilet 34Giving my slave the ultimate gift for his birthday. The extremely exclusive opportunity to honor me by eating my huge stinking shit directly from my asshole on his birthday – From Broken Toilet 36Be sure to check my store for all my other clips! xoxo
Abducted Man Has To Drink The Piss Of A Dozen Women!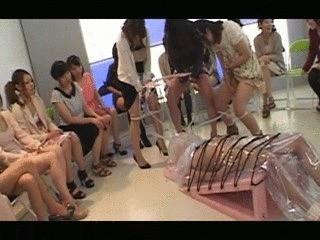 There is a cult composed only of women who are terrorizing the city. What they do is that they abduct unsuspecting men for their unpleasant rituals! In this situation, this unlucky guy is the victim and he is bound to a contraption! Unable to move, there is nothing that he could do to contest the situation! As a result, the sweethearts easily gather around him and attach tubes, which are connected to the man's mouth, to their pussies! Not long after, they simultaneously urinate, causing the victim to helplessly gulp down the piss of a number of women! When they are finished, another group of sweethearts do the same thing on the guy!
Mistress Roberta -shitting On The Slave's Face In Leather -full
Today my toilet slave came and i have a new surprise for him. I took my ecological leather leggings on and i order him to worship them while i fart in his face and after a while i pull down under my ass the leggings and i put his head between the ass and the leggings to hold his head good near my ass hole so i can shit in his mouth .Having his head betwin my legs, leggings and ass cheeks is very unconfortable to shit in his mouth so i tell him to bring the potty chair so i can sit and shit well on him but because of that much trouble the shit won't come out by itself so i bring my enema and sqeeze it so i can clean well my ass into his mouth .I do one more enema so i can clean good all the shit remaining in my ass and after i empty the enema of water i take all the shit pieces and put them in his mouth and after i take some and put it on his chest and he gets on all fours and i order him to slurp and drink all the shit liquid on the floor .