My Shit Eating Date
Welcome to my world! So you come here for a date with me? I have noticed you have been watching me at work every day. Especially you at looking at my ass! My door is locked, and you have no escape from me. I am going to make your dreams come through! Well, almost.. Instead of licking my ass and pussy, the only thing you will get is what is processed through my body parts.SO get on your knees behind my ass, and I will fart in your face. Smells good right? This is the pre smell of your dinner today. Now lie down, I need to shit! Watch as my huge turds comes out of my ass hole, and land in your mouth. Now eat it! This will be your daily routine at work every day form now on!
The Scat Dog Education P1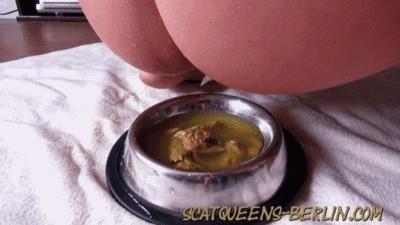 The Scatqueens educate their toilet slaves into a shit-eating dog. He has to behave like a dog and is treated like this. The shit, piss and snot are served to him in a dog bowl.
Huge Gordian Knot
No sooner as I am off the iron pills, my irritable bowel comes back on, and with ridiculously large portions… I ended up shitting a huge thick knot, have broken the 300 gram mark and afterwards stained all my loo… igittigitt .. 🙂