Bad Toilet – Humiliated
I am in the mood, and I need to shit! So I tell my slave to get behind my ass and take what comes out. After peeing the logs start to come out, but my toilet misses too much! It falls to the floor, and I am not too happy about this. He is also struggling with eating my shit! What a shame, this is the only thing I allow him to eat! So he should feel privileged by being served this delicious meal by his Goddess! But as a punishment I tell him to put the shit that he missed in his mouth.I tell him to go out on the porch, and stay there with his mouth open so everyone can see what a disgusting toilet he is! I just close the door and leave him there!
Mistress Gaia – Smothered In My Scat – Hd Version
CUSTOM REQUEST – I would like FULL NUDE, NUDE FEET, REVERSE FACESITTING. if possible action on a bed and with a cushion where you will block your ass. If you can also use a belt for taking care that he will be smothered by your farts (or even your shit) of your ass, that could be great !!! long time suffocation, and don't hesitate to be rude when you are facesitting or farting or shitting, and using the belt for pushing him hardly on you. Camera close to you where i can see your full body and your full dominant face, crual verbal domination, laughing when he's suffering. Ass very close to his face when you are farting or shitting on him and don't hesitate to sit on him right after in the second which follows without waiting.
Drink It All 2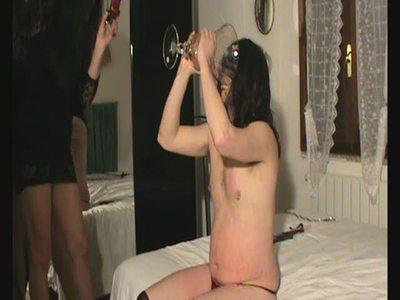 Divine Mistress Isabella makes sissy slave carlotta drink a huge amount (more than 0.5 litres) of Her golden nectar from a big cup. Italian language. 2nd part.