For The First Time Shit Eaten! Part 1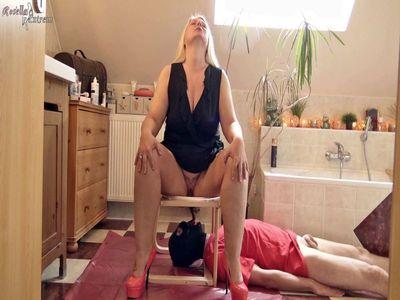 Here you can see the 1st part of a total of 3 parts from the full movie: For the first time shit eaten! Rosellas slave test!
Caviar Chocolates
Among my high heels certainly sticks a little old piss from the last session, well that's just a slave here. He can extensively take care of my feet. Kisses on my heels first, then he licks my heels, then the welding directly from my foot. Miss Cherie, meanwhile, pees in a bowl, her yellow juice is sure not discarded, the slave should therefore be thirsty… Then we are positioning the slave skull just below her butt where she shits some hard chocolate into his mouth. The loser has to contend with dry shit, he has maybe bad teeth. I am not a monster, so I piss again in his bowl so that it is not quite as dry to choke the shit down. *smile*
Battered & Pissed On By Two!
This poor slave is battered and abused by 2 ruthless mistresses who use him as their very own human punch bag. They humiliate him as they wrestle him, trample him before finally completing his torment by pissing all over his pathetic body.