Dirty Scat Pet Girl
My master educates me to become a good scat pet girl… I shit in my bowl, my master also shits in my bowl and I lick his dirty ass. he spreads shit on biscuits that I have to eat as quickly as possible as a good doggie. He spreads the shit on my big udders, my face, he stuffs his hand full of shit in my mouth and it makes me vomit, he fingers and fuck my dirty asshole and I suck his dirty tail. Completely soiled, I masturbate, I piss in my bowl and I go to my basket of bitch and my master pours the bowl filled with shit and piss on me.
Zelda's Panty Overload!
When I say Zelda has been bursting out the screen lately – this clip is a prime example!!! Enjoy as zelda releases a nice Funky load right in her panties. I swear she couldn't have found a sexier pair -to totally ruin!!! Enjoy as she spreads her dirty asshole nice and wide and shows the nasty panties off!! Don't you wish she was putting it in your face!! I swear for goodness somebody must be hitting that ass from the back, because is it gets more curvy, juicy and delicious each time I see it!! Four great clips from Zelda in this set, as she gets on all fours and squats to drop her usual massive loads in the other scenes. Zelda is getting more and more FUNKY with each clip! This her most EFROtastic clip yet!
Peeing In Her Mouth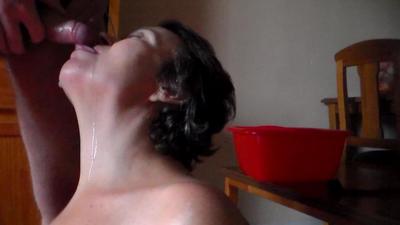 Peeing in her mouth (JJ000518)