Goddess Andreea – Mix Compilation Nr 10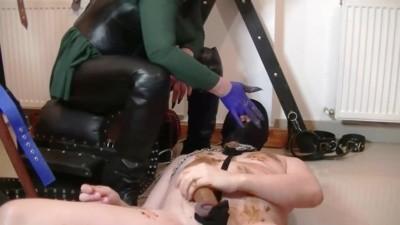 Goddess Andreea is our MILF Goddess. She is a kinky, hot and bizarre Lady. She love to use only human toilets in her new dungeon area. For this, she casting a few of them and use them everyday in her full toilet movies. Here is only the scat part from another movies of her, and from now you will see her new movies THEN a compilation with best part of her shitty action. Enjoy and prove Goddess Andreea that you are capable to chew eat and swallow her Kaviar ! Here you will find her scat movies, parts never posted in the Mix Andreea compilations 1 to 9
Scat Goddess & Friend Use The Toilet Boy – Side Angle
Today again toilet slave was used by 2 Goddesses. Scat Goddess and a friend of her. They use and abuse their slave boy, using his mouth to eat EVERYTHING they want ! First Goddess put him in chains and feed him with some food then Scat Goddess offering the toilet the main event : her KAVIAR ! He must learn how to chew it, swallow it and play with it without any problem. This was a good lesson for all toilets who aspire to have 2 Romanian Goddesses and be used as toilets for them. Very nice feeding with Scat Goddess foot deep inside toilet mouth. Recorded from the side angle with video camera.
Pooping In The Library!
I'm in my school studying when I have to take a poo that I've been holding all morning. I have to do it quickly before I poo on myself or get caught!