Hot Newcomer, Sylviamilf, Pisses Me In The Mouth! Hot Femdom Clip!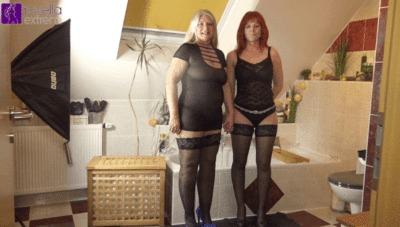 Here again I have something very special for you. And indeed, I have with my girlfriend, the horny newcomer, SylviaMilf, filmed her first clip. Here Sylvia pissed me nicely into my eager mouth. It was a huge amount of hot piss Sylvia gave me in my mouth. Of course, I swallowed everything greedy and then licked the sweet pussy of Sylvia clean. The hot piss scenes, you see it, from 2 camera angles. Sylvia and I are now often together, horny and kinky clips, produce, Of course, synonymous with users! So if you like hot milfs, and you want to do nasty user shootings with us, then get in touch with us!
Prisoner Of Goddess Is Fed With Shit!
My toilets slave is bound as a Prisoner and then fed and punished with my shit! I had to shit urgently. Since the toilet failed last time and did not swallow everything, he must be punished now. His lesson: This time he is bondage to a chair. Then I'll shit a big portion of shit in his wife's plate! With cutlery I put the shit in his mouth! In between he swallow my piss. In the end everything was eaten. Also the dirty shit toilet paper, which I clean my asshole.
Toilet Man Abuse In The Kitchen Part 6
Here we dragged the Slave in the Kitchen and did not let him get up, until he ate 7 Portions of Poop. Part 6 English Subtitles