My Idiot Toilet
I have a freakin' French non English speaking toilet slave who wanted to shoot with me, but the idiot does not understand a word English! I am so fed up with this slave, and now Anna Maria wants to pee. So I try to explain to the idiot to get beneath her and get what he deserves! After a looooot of pointing and explaining he finally get beneath her pussy, and she pee on the idiot!I tell him to clean up afterwards, and be her toilet paper, finally something he understood! Now I need to pee to, and he strangely understood to get beneath me.. So I just piss the moron without any concern, and tell him to clean what he missed on the table and the floor..!
Mega Pervert! Extremely Dirty Pig – Party (part 4)!
It was a perverse, extreme and cool party! 25 men have used me and my girlfriend Cindy on this horny bastard Party, kink and extreme! Everything was allowed and the guys use us dirty and extreme! Something like that you have certainly not yet seen! This is the 4th part of the Perverse Party in Bremen!
New Year Champagne – Pissing Pur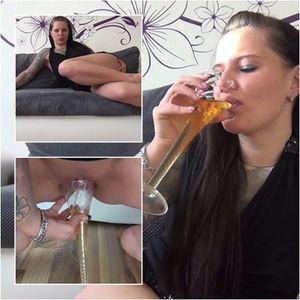 Come and stumble me on the New Year with a glass of piss. I'll start the year right back dirty as I stopped.