Ladies Give Their Victim Mouthfuls Of Piss! – Part 1
As soon as these two sweethearts brought their victim into their dungeon, they make him strip off his clothes! When he is left with only his underwear, they lay him on the floor and then begin urinating all over his body including his face! When the guy learned of the ill fate he has gotten himself into, he tries to get up and escape, however, one of the dominatrix is quick to step on his body and pin him on the ground! To make things worse, she orders him to open his mouth, allowing the other sweetheart to piss in his mouth and make him swallow!
Slaves Of Cherie And Jane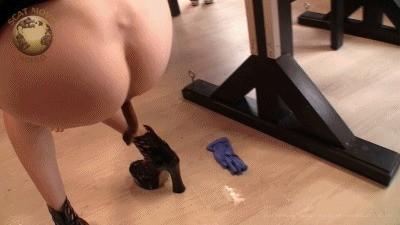 Two servants are mercilessly exploited to Jane and Cherie. One is brutally tortured, the other is used as a toilet for two mistresses.Miss Cherie pees a big load into his mouth, then she opens up her ass and a big pile of shit follows, what the slave is allowed to swallow and eat. Soon afterwards Miss Jane uses the toilet slave for a good portion of her caviar. With gloves, she helps the now overworked slaves to eat it. Both girls beat the other slave in between for their amusement and leave distinct traces of the whips and their sharp nails on him.
College Girl Libby Compilation 1080p
All of Libbys clips in one for one low price!!!