Chew And Swallow My Thick Shit
You're under my big asshole where you belong with your stupid mouth open, waiting for my heavenly turd to fall into your toilet gullet. I wink my asshole, filled to the brim with poop over and over again as I remark on how good it feels preparing to feed you. I birth my load right down over you and it lands in your mouth. I get over you and give you nasty, filthy toilet-eating instructions that will satisfy and please your BBW Goddess. I demean you over and over again for sucking and chewing my thick Goddess shit… I used my toilet slave, and fed thick shit right out of my hands. It was nice watching him suck and swallow my stinky shit, choke and swallow again. See, enjoy how he eating my shit!
Nothing Shit Can Escape
My ass was very full this morning, cause yesterday I ate a lot of food to fill the slave's mouth. He was already waiting for me in the toilet and was impatient. I shit directly in his mouth with his lips sealed to my asshole, sucking my shit out, but the shit was too big and creamy for his mouth ? so nasty, but entertaining nonetheless. I don't care, he is just a shit hole, my toilet hole! There is some bonus for you filthy toilets as well. You can see what you can never have – my shit covered my ass – is your dream meal.
Pissing On Her Big Tits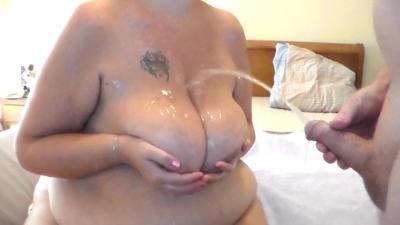 Pissing on her big tits (JJ000734)