Hot Chocolate, Whipped Cream, Pee In My New Slave's Mouth
Silicone Goddess Antonella using her new toilet slave. She's giving him a tasty dessert made of hot chocolate right from her sexy asshole into his mouth. Then she makes another big and looong one and adds some whipped cream to it and she asks her slave to eat it. She's peeing into his mouth, just of the case he is thirsty.
Nasty Real Estate Agents Make Client Eat Turd!
This rich client of theirs wants to buy the condo they showed him but he wants a big discount on the price. The nasty babes agree but they set a condition – he has to obey them and eat their shit! So they tie him up like a dog and set a bowl in front of him. The girls take a dump on the bowl and make him eat it! Then they shoved their asses on his face and makes him clean the assholes with his tongue!
Scat 2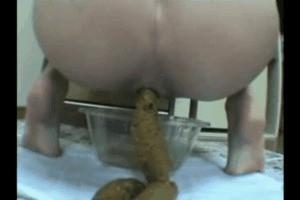 Clips of a small framed woman producing massive TURDs.