Mistress Gaia – Enjoy Your Meal, Dog!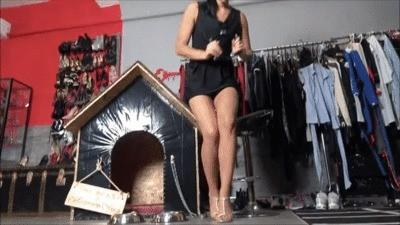 ENGLISH SPOKENCome here dog, look, I have a new collar for you. It's big and heavy and will always remind you that you are my property. Now it's time for your meal. I'm going to prepare it myself, just for you. What a lucky dog you are!!!! Watch your Mistress while she prepares your food and drink; it is beautiful view, isn't it? Enjoy your meal now and, when you are done, go back to your dog house.
Pissdrinking And Assfuck
I sit on the face of my slave und he must lick my pussy and my ass. Then I piss a huge load directly into his mouth and he has to drink it all. Because he make his job good I fuck him with my strapon in his ass. Finally he has to sallow his own cum.
Anna Lena Pooping
This is a sensation. A sweet blonde girl living in Germany is doing a super turd in the woods near Munich. Hey Oktoberfest is starting soon and she plans to do her shits there in public!!!!