Husband Drinking Wife's Piss!
When this woman came home from work, the first thing she wants to do is quench her ravaging urges, but it is not going to be enjoyable for her husband since she is a dominatrix! The first thing she does is order him to strip off his clothes! When he is rendered naked, she serves her shoes inside his mouth and makes him slobber all over it! Shortly after, she puts him on his knees on the floor and then repeatedly spits in his mouth! All of these are still foreplay, the worst is still yet to come! After she slaps him on the cheeks, she begins with the real action! She lays him on the floor and then urinates inside his mouth, leaving him with no choice but to swallow and gulp down every drop of her piss! When she is finished, she sits on his face and feeds him with her pussy until she gets satisfied!
Mix Compilation Nr 32
THIS IS THE OUR NEXT COMPILATION WITH ONLY SCAT ACTION FROM OTHER MOVIES ( YOU NEVER FIND THEM IN OUR OTHER COMPILATIONS FROM 1 TO 31, DIARRHEA AFTER DIARRHEA ACTION, CHEWING AND EATING GOOD SHIT. BEST SHITTING GODDESSES FROM SITE, THEY CAN SHIT MANY TIMES/DAY. A perverse Mistress who adore to have her gifts swallowed by hr toilets is also present in this compilation in the first movie.
Hard Shit To Digest Part 2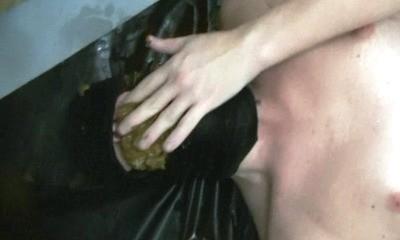 Continuing my degradation and humiliation…. mistress needed to change something in my behavior and she get a crop to can show me what i will receive if i don't eat her shit and drink all her pee. She beginning letting me worship her gorgeous pussy lips, trampling me on my chest, pushing her foot in my mouth deep, filling my mouth with more than 1 litre of her fresh nectar …spanking my body-face-cock and balls with her crop, shitting a huge mix of diarheea and shit then order me to be a good toilet and eat all her shit slowly while i begin strocking my hard cock. She order me to make my cock shitty and continue my humiliation peeing and shitting more on my chest and cock – part 2 . file is .wmv with sound !!