Eating Enormous Diarrhea From Mistress Roberta
Mistress Roberta is back to work again after 2 fre weeks. For today she was dressed in a seethrough catsuit and she expecting again total obedience from her toilet boy. She feel a huge Diarrhea inside her bowels and until she will delivering daily meal, she use her toilet mouth for cleaning and licking her legs and hose !! Her toilet worshipping her legs and asshole. She escape a few farts just right on his nose and mouth. Then she order her toilet slave to stay under her toilet chair and keep his mouth wide open for a huge portion of diarrhea !! She relaxing and relieve a big diarrhea into his face and throat. She humiliate him and pushing a dildo inside his mouth to helping him to swallow her stinky diarrhea. Another diarrhea game prepared by Mistress Roberta !! Next time maybe Goddess Roberta will invite another Goddess to play in 3 !!!
Mouthfuls Of Shit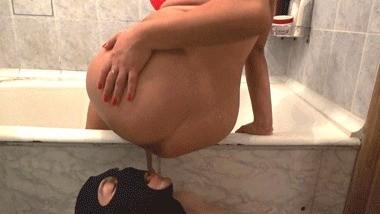 Lick and kiss my dirty asshole! Clean all! Remember, you're just a toilet, accept their fate and open your mouth wider. I'll be shitting in your filthy mouth. You get a large portion of my fresh shit. Enjoy, what are you waiting for? After all, you want it so. Look at his face. It's all in my shit.
Shit-smeared Maids On Full Display! – Full Movie
These slutty maids are definitely hardcore. Not only do they refuse to wear the prescribed uniform, they also like to eat and smear themselves with scat! At the rooftop of the penthouse, they shit on a bowl and then use the sticky mixture to mask their whole body! They use enema so that their assholes will produce more feces, the smellier and wetter, the better!