Mistress Margo – Piss And Shit At Morning Menu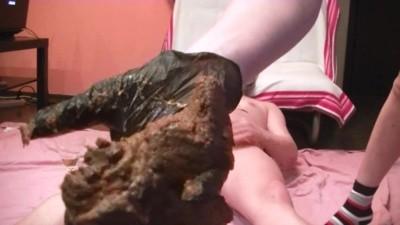 Goddess Margo back with more movies ! Today she abuse her slave body, trampling him and using his cock and balls for her dirty pleasures ! She use her toilet in her room, order him to drink her morning piss and humiliating him a lot. At the end, she shit on his chest and feed him until she is happy by result. SOON … !!! We are proud to announce you that The 2017 AVN Award fetish girl GLAMYANYA will collaborate with us and she will make movies for our store !!! Check her and you will be in love to buy her dirty movies !!!! She is one of the best Romanian Mistresses and she is also into full toilet play with her slaves ! And without mask, with visible face, …..prices will be very high for her movies, she says that already…..so….take care what you wish or you will become addicted !!! Make some savings because in 1 week we will deliver her movies.
Pooped On The Living Room Glass Table
filmed from below upwards 🙂 Well, that no one else has seen .. otherwise He would here nothing more to eat at the table … had Phew, good luck!
Human Toilet Jessy And Diarrhea
One of our earlier Movies. Jessy did some really nasty Shit into the Man's Mouth and without Mercy fed it all into him with the machines Help. The Slave had an Overnight Puke Session from what I remember and Jessy thought that is to funny