Push Pee Poop
Goddess Panther is wearing sexy satin outfit, she is masturbating hot in cute panties, peeing,farting and pushing the shit out her asshole.
Yellow Soup With Spit
A long-time fan asked me to make a video where I let a slave drown a rough soup of piss and snot. The idea I liked and slaves for it are there enough. So we fixed the loser under a glass bowl and use his mouth later as a proper drain. Miss Jane and I just got up, so our piss is beautifully yellow and smells a bit raucous, along with our snot and a nice puddle lump a really laid out drink for our living drain *smile*.
Scat And Piss Sale Clip! Is It Already Christmas!?!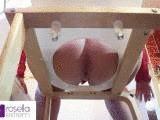 Here you can see the horny piss and shit scenes, from a mega-shit sausage, from the caviar and piss Full Movie Your Christmas dinner! A big shit sausage, potted in piss!