Kara Lee In I Have A Pee Fetish – The Interview
Kara was over for the day and we started chatting with her…We find out she has a pee fetish…She loves all things about Pee! A couple questions later, we had her naked and drinking pee from a cock. Kara is a must see, pee lovers do not come any cuter!!!
Nasty Poo On The Floor!!!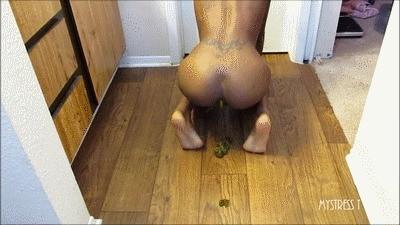 Hi guys! I just woke up and had to poo bad!!! Didn't have enough time to set up so it's kind of an impromptu clip but Oh boy is it nasty!!! LOL I took a big ole nasty green and black shit and piss all over my floor. I was so desperate when it finally came out it felt sooo good! Anyway I hope you enjoy it as much as I did 😉
Mistress Gaia – Humilation Under Sofa
Sitting on the sofa, at my feet I have this shit eater … Just waiting for his Mistress who dish him the meal … but something awaits him, my bitch will offer him a meal today!