Hungry Slave Begging For Food Smeared With Feces! – Full Movie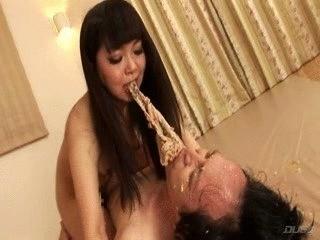 It has been a while since this dominatrix fed her human slave, so in this situation, he begs for food! Since she is eating at the moment, what she does is just spit everything on the floor! He is then fast to devour everything! When he is done, she bends him over and then anally fucks him with a dildo! It didn't take long before she lays him on the floor where she proceeds to urinate on his face! When she couldn't release anymore, she feeds him with her pussy! Then, without warning, she defecates on his mouth! To make things worse, she proceeds to smear everything all over his body!
Mistress Lilly Shit On Her Body In Bathtub
Mistress Lilly show you today her dirty mind. She shitting a diarrhea in her bathtub and playing with her shitty on her body, all over her big breasts. Perfect movie with Mistress Lilly.
Explode In My Red Panties
And now you have to sniff and clean these panties ? ahhahhaha