The Scatqueen
Scatqueen Mistress Michelle wants to shit into the mouth of her toilet slave. This time the shit lands not exactly in the mouth, but on the face. What a pity. From there, however, everything is then pushed into the toilet mouth. Mistress Michelle also helps and spits on top.
After Strapon Fucking Toilet Eat His Meal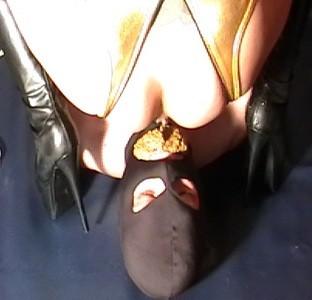 My slave just come at my request to please me. I fuck his ass with fingers, with dildoes, strapon fuck him, and allowed him to lick my pussy, smell my pussy and asshole. Then i preparing him to receive his meal because he remain just a full toilet for me. He was told to keep his mouth wide open to catch and receive all shit from me !!! Then he was allowed to chew it and eat it until i suffocate him with my dirty ass again.
Scat Comparison!
My scat is better than yours, she tells the other chick. There's one way to find out, says the other chick. So they squat on the fancy floor and ejects the best scat they can produce on the spot. They pick the scat from the floor and compare them for smell and consistency. They turn to you and make you decide who has the best scat in the room.