Goddess Andreea And Goddess Claudette Humiliating Slave
Goddess Andreea and Goddess Claudette playing more today with the personal toilet slave of Andreea. After they make a custom request for a fan, they feel so good and horny and want to abuse more the pathetic toilet boy. They spank his body, cock, balls, abuse them and order the toilet to keep a big buttplug into his asshole all the time. Goddess Claudette then put a strapon and fuck his mouth hard, choking him on her cock. They also order him to worship their legs . At the end, Goddess Andreea feel to play hard and oblige him to keep his mouth open and drink her piss right from source, through her red hosiery ! In this way they will train him to can handle the futured party and become a full toilet for all future ladies. A great bdsm and toilet movie for the both of Goddesses.
Tenderly Scat Love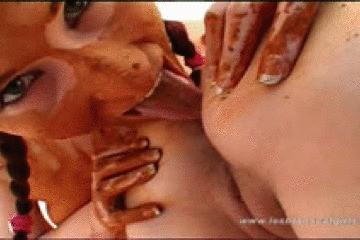 Tiffany and Louise in Tenderly Scat Love. See them having real Scat Sex with Scat, Pee, Kisses, Scat Eating and lesbian scat play.
Be My Fucking Toilet Slave! (720p Hd Wmv)
Hey there! Useless piece of shit! I hate the feeling of toilet paper on my soft skin. I don't want to use it anymore. So it's good that YOU are here! You will clean me! Put your tongue out and lick my pussy clean. Lick every single drip of my pee! Yeah, that's much better than using toilet paper! But you know I don't have to pee only…! You will have to clean my ass too ? Of course, also with your tongue!