Sparkle's Sexy Golden Reign!!
Sparkle is back with another faboulous collection of pee clips! Enjoy as she wiggles and shakes her beautiful ass while releasing her golden nectar. Enjoy as she makes it an event each time you see her slide in and out of her pants, dresses and panties!! Over 10 minutes of ASS, clASS, and splASSh!!
Mega Beam Under The Skirt!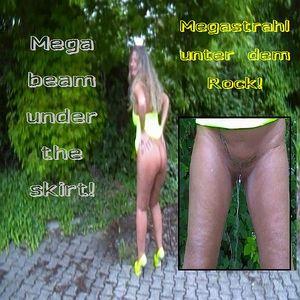 After I have been traveling in the fine weather again ventured boldly in a short dress with no panties and high heels and I parked my car in the parking lot of my apartment building, I had to pee urgently. Since I no longer made it to my apartment, I just lifted, my skirt in the parking lot and in the stand I pissed a mega pissbeam on the street pavement!
Mega Sausage In The 10th Month Of Pregnancy
Thick, thicker, thickest is not only my pot belly, but also horny sausage I sooo cool for a user press out …. hmmmm!