Swallow My Shit Loser!
I dont have much time but I have to shit badly! My toilet slave is waiting for his meal under my chair. After he lap out my pee of a bowl he is able to look at my asshole and smell my fragrant. His meal is done and coming very soon. – Open your fucking mouth slave and take that hot shit! He cant hold it all in his mouth because it is so big and smelly mmmm. I really enjoy this! – Eat all my shit! He is a really good toilet!
Smoke Hookah And Taste My Smelly Shit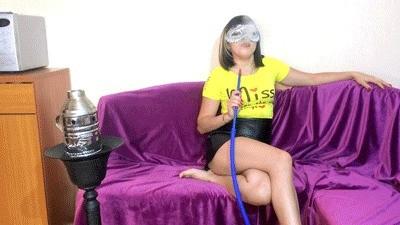 I smoke hookah and playing with big toy dick. I dip it deep into my wet pussy and suck it. I've gotta shit so bad, I can't keep it in anymore! I crap a HUGE load, leaving me all messy, and hot, my pussy creaming all over. It smells very good. You should clean me up back there 😉 mmm, it's delicious 😉 I'm sure you can't resist tasting it yourself now. Huh? You eat the rest then, you piggish shit eater!
24 Hours In Jail With Feeding
The slave is caught in the cage for 24 hours. The mistress brings to the slave his special food and drink. He has to swallow her delicacies without complaining.