Farts & Kaviar
This Ebony plumped ass in all in your face and I decide to add some oil for you..I begin gapingy ass showing again how wide i can get. You imagining your cock going in it, while I get out the toy and fuck my ass I begin to feel all the shit I been holding in all morning. I stop fucking my ass and start to shot out some hard turds and some are peeking out ready to come but I fuck my ass some more to soften up the load, and then I shit some more turds out. Talking dirty to you I begin to put my finger in my ass and fuck it deep and fast untill more shit come out, ugh I can't stop it turns me on being dirty for you; I then fuck my ass even more but then A HUGE FART RUMBLES OUT I keep fucking my ass and stop again FOR MORE FARTING ugh the smell filled the room and some more shit comes out I oil up my plump ass even more since I know you are worshiping my ebony ass and I caress it as you cum for me like a good little nasty boy that you are, and then I show you my creation on my plate and say " Dinner is served" this is a worshipping nasty smelly video which will have you submitting to me and in every video I release !
Come And Catch My Piss Now Properly – Your Second Try
It may not have been that you did not manage to catch my fresh piss on the first try without wasting anything with your mouth. Here you will get a second chance to collect my fresh urine. And woe betide you don't make it this time again, because you will never get fresh golden shower from me again.
Toilet Slave Training Extreme, By Tina And Rosella!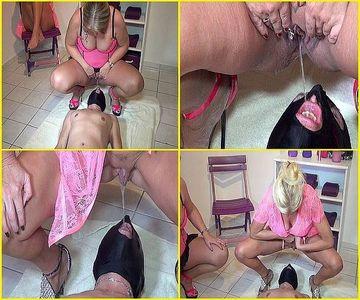 A user has written to me and Tina, and wanted that we train him to toilet slave. Have invited him into our fuck-Urbanization and made him to our, living toilet. We both have so much pissed him into his slaves mouth, he could hardly. But he wanted to swallow our piss, so there's no turning back! He probably had not expected that it was a gross amount as he had to swallow. While we filled him totally off he was also humiliated verbally by us and then had to lick our pussies clean!