Mistress Gaia – Training Slut To Eat My Shit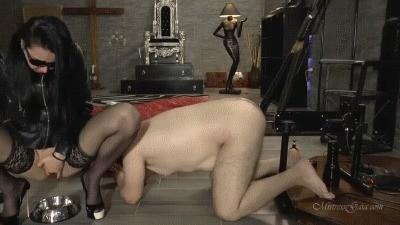 I have a new slave who contacted me and said he wants to be trained in eating my shit. I brought him to the dungeon and this is his first training session. We'll see how he gets on. I'm also going to use the fucking machine on him. He says he wants his ass broken in, and he wants to enjoy being ass fucked. I get him to kiss my shoes before allowing him the luxury of anything else. He's a bit stupid, and I need to make sure he understands what I want from him. I order him to fetch the dog bowl, It's going to be used for him to enjoy eating my shit. I then get him i position for the fucking machine. He's going to suffer while he's eating my shit. I then put a little of my shit into the bowl, just enough for now as he's in training. I tell him to get eating, and I turn on the fucking machine. He has to empty the bowl or I'll punish him. When he's finished, I see him touching his cock. So I tell him he can cum and he then has to lick all his cum off the floor. The stupid slave can't cum, he's wasting my time and making me angry. I'm going to leave him on the fucking machine all day. He has to remain in that position until I return and decide on his further punishment…
Mistress Roberta – Stiffy Little Shit-pov
First i have a few drops of pee after i poop after all the pooping i give you my shitty ass hole to lick ti clean and after all this you may eat the stify shit .So now get on your kneese drink the few drops of my pee, be careful to get that shit into your mouth and not loose it and be careful to lick clean everything after you finish .
Bored At The Office Turn Into Messy Poop & Lesbian Encounter! Hd Part 3 Movie
PART 3 HD MOVIE – These girls arebored and frustrated at the office, they ended up turning their boredom at their female manager in which the first female followed the manager in the ladies toilet and film her having a shit!!! She is definitely picking at her poor manager. When they both returned its break time so no one else is at the office. Both office mates ganged up on their manager, they first turn on the camera and film what they were doing to her. The poor manager is protesting, struggling and begging them to stop tormenting her.. They tied her up and rip her clothes off and started licking her pussy! The more she struggles and protest the more it turns the girls on!!! In between licking her and tormenting her they both then take turns to squat on manager's belly and take a dump like she's a toilet bowl!!! And the torments continues..