Eat My Shit From The Floor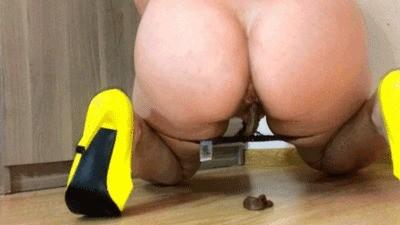 My slave was waiting for me in the toilet all day and he was very hungry. I took him out of his usual place and made him to kiss my dirty feet. He was very excited and pleased when I came home. He had to lick my shoes to shine before I feed him with my surprise that I prepared for him. I let him look at my ass, when I'm shitting on the floor. I know that he is very hungry and wants to eat my delicious shit. But first he must clean my shitty asshole. I use his tongue instead of toilet paper. When he finished his work, I allowed him to eating my feces. He took my smelly shit from the floor in his hand and begin to lick and swallow! He was very grateful to me and wants to serve me again!
Horny Lesbians Enjoys Some Shit Over Tea! – Full Movie
They are having their afternoon tea, like they always do everyday. But today, they are raring to try something new. Instead of eating sconces with their tea, they decide to eat shit instead! After several cups of their favorite Vervaine tea, they take turns eating each other's eager cunt. After the foreplay, the first girl rubs her ass on the other chick's face and unloads her wet and sticky shit all over her face!
It Stinks So Bad!
One of my dearest friends, Demetra (23 years old), has agreed to inaugurate my store ItalScat with a series of selfie videos, in which we'll see her shitting hard. For this first video I asked her to stay two days without pooping in order to have a nice big turd for future viewers. I was not disappointed by her performance! In this video, she lays a very big 'egg' in the bidet, telling her feelings of true liberation after much waiting and complaining about the stinky smell of her shit.