Silicone Goddess Shitting Again In Public Places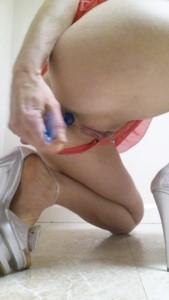 Mistress Lilly continue her shitting stories. The silicone lady love to shit and piss EVERYWHERE and she also have a camera with her for recording that ! A true Scat Goddess who love to show off her passion for scat !! This time she playing with her pussy and using anal beads in her asshole. Then she shitting a large diarrhea.
Shit In Rubber Boots2
I wore rubber boots and a raincoat. I'm starting to shit and I can tread shit with rubber boots on a raincoat. it's just a super sensation. everything stinks and rustles the raincoat
Open Up And Shit
i begin playing with my tits wanting you to suck on themas i get horny i feel like i need to shiti lay back and begin to feel the shit flowmy ass opens up very wide and the turds just flow outi shit into a tin capi show you the shit it glows in he light; it looks so Gorgeousi describe the smell and taste it mmmm it smells and taste so goodits warm since it just came out my ass Fresh is the Best!