The Caviar Rubber Doll
All packed in rubber, the slave waits to receive Contessa's noble gifts. As he was good, Contessa fulfilled his longing.Carefully, she places the toilet chair above the slaves' head and settles on him. First, the slave get served as small aperitif her noble pee, which he eagerly swallows. Then follows the main course in the form of her noble caviar. She puts two beautiful thick sausages in the wide-open slaves' mouth. Eagerly swallows the horny pig everything up to the last crumb. That not even the smallest remnant of her gift is lost, the Contessa takes care of, by scratching and feeding on the smallest remnants of his face. So the Contessa loves her toilets.
Horse Back Riding Princess Style I Part 1 Britany
The Girls just need Amusement. So we had the Idea first we poop into his Mouth, then we move our Butt a little more backward to restrict his Breathing. That makes him Panic and he starts behaving like a Horse.Part 1,2 and 4 are the juciest onesEnglish Subtitles
Madame Jeanette Bizarre And The Dishwasher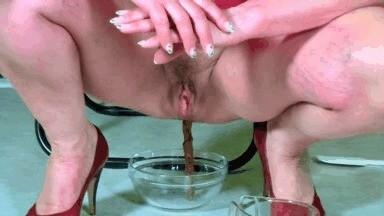 The crazy Madame Bizarre has a break by the diswasher to crucifies him in different ways. She has to shit so badly, so she decided to shit him on a plate. Now he can do his job and lick it all off from the plate.