Mistress Emily – Shit Devotion
Okey, my scat boy, show everyone what you are worth. Lie down on the floor in my bathroom and lick my sweet legs. After maybe I'll reward you with a delicious dinner for good obedience. Lick my asshole while I groan for pleasure. Put your tongue in my ass. I LOVE it when you do it, my toilet. Now open your mouth wider. As I promised, I will reward you with a delicious dinner right from my ass. A huge long shit falls into your mouth. Then again and again. Oh, I finished shit. Did you like it? I will spit in your mouth. Now you must swallow my shit along with my spit. Come on, lie down, I'll show everyone your fucking mouth before you start eating my shit.
Introducing Tina!!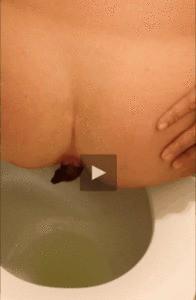 Say hello to Tina!! Another of the new recruits, this clip will have you cursing up a storm ? just like the tattoo right above her ass!! It?s as if the tattoo was reading my mind as I was like ?FUCK!!? watching some of the monsters she let out her ass in these two clips!! Two great rearview clips, one at home and one gassy, ploptastic clip at her job. Hopefully this is the first of many explosive clips from this sexy young hotty!! Ass, gas, and turd splash aplenty ? you will be sure to be screaming ?Shitfuckgotdayum?! All at once!!
Another Day In The Office Part 11 Nataly
This is one of our Fans Favorite Movie. The Girl is chatting in Facebook or where ever and sits on the Slaves Face letting go of some really nasty Poop. In this Clip, Nataly holds the Guys Mouth open until it's filled up, particular nice Scene. English Subtitles