Mistress Gaia – Shit In A Hurry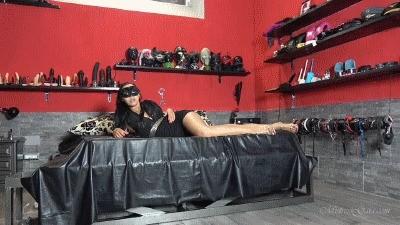 I'm in a hurry because I'm late for my appointment. I put on my shoes and I make my slave lick their soles, which are very dirty, while I touch-up my make-up. Finally, I'm ready to go out when, suddenly, I hear a noise coming from my belly ….. I need to poop!! But why waste more time going to the toilet when I have my slave readily available? I order him to lie down on the floor, face up, with his mouth wide open. I squat over his head and I don't even waste time to take off my thong; I just put it aside and ….. I relief myself. His mouth is full with my fragrant shit now and he knows what to do: he starts chewing and swallowing; not a single piece of shit must fall on the floor!! Also the paper I use to clean my ass ends up in his mouth. Finally, I'm ready to go out!
Dominatrix Lady Vampira Used Her Toilet Slave In The Rubberrroom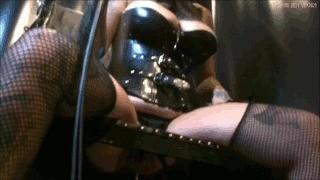 At the end of the FemDom party in the SM Studio Femdom Empire, Dominatrix Lady Vampira needs to piss! Toiletslave Bernd, a loyal slave of the housekeeper for years, naturally likes to be available as a Human Toilet! In the specially built rubber with Toiletthrone may be get really dirty! A bit of nipple torture and trampling must not be missing.
Sexy Secretary Pisses Into The Bathtub
Karina just came home from a long day in the office and is still wearing her business outfit – but she needs to get out of these clothes now – as she really needs to pee! And she's doing it right in the bathtub. Her stream is so long and steady that nearly the whole bottom of the tub is filled with her pee!