Tm Time For Bed Dumps 720p
After long days at work TM is ready for bed but not before she drops her healthy thick logs out of that bubbly beautiful ass of hers into the toilet bowl. 2 clips of TM doing what she does best!!!
Going Through Scat Slave Training – Part 2
The mistress stands up and crushes some food on the floor, pees on it, and rubs the disgusting mixture on the girl's face. She stands up and pees some more on the poor girl, who's still smothered with the food. She fingers the girl's pussy and anus to bring out bodily fluids. Shit comes out of the girl's asshole a few moments later.
Full Body Of Godess Shit And Cumming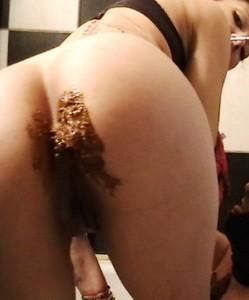 Godess want today to see a cumming from her slave. For that she put the slave in the bath tub and order him to wait until she will pee in his mouth and shit through her pink panties. With her huge shit flowing to his body, the toilet slave wash his body, smelling her panties and begun to stroke his cock until he cumm.