Bathed In Shit!
Outside the bedroom, he is the boss of his two pretty mistresses. Inside the bedroom, it's a different story; THEY are the boss. When they want to bathe his face with shit, there's nothing he can do about it. With him lying down on the floor and already drenched in filthy liquids, the girls take turns sitting on his face and shitting on it. They shit right into his mouth and make him eat it! They shit and shit on his face until he is already drowning in filthy muck!
Outdoor Too Much Pissbeam And Shit Pralines
I go in the forest to a very beautiful place…..then i hope the peoples can my not see when i must piss and shit!! A very thick and big Pissbeam comes on my pussy,ahh…..later,i shitting brown Pralines!! What make you with my when you have see my? hehe
Session Extreme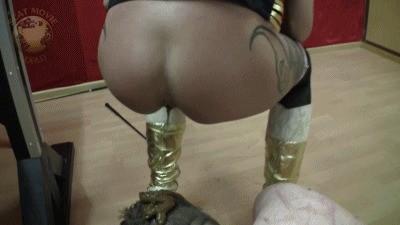 A slave is just productive livestock. I like to use this one for torturing and as a living toilet. But have a look at his way of pain: Headbusting, drinking pee, whipping, swallow snot, eating poo, nipple torture and high heel trampling. He will think of me for a while?